Taking care of the environment should be a responsibility for everyone, and Millard Lumber takes this responsibility seriously. This is why we offer Your Shade of Green®, which will help contractors and customers make better decisions when it comes to building green.
Make an appointment with a Millard Lumber professional to find out more about Your Shade of Green®.
FSC® Certification
Millard Lumber's FSC® certification is another important component of the Your Shade of Green® initiative. As a certified provider of Forest Stewardship Council® approved lumber products, Millard Lumber can supply the products and proper documentation for end users seeking to build in compliance with recognized LEED guidelines. LEED (Leadership in Energy and Environmental Design) is the nation's largest green building certification program.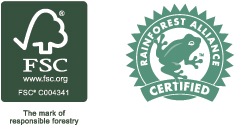 Green Building Nebraska
Nebraska is fortunate to have a great local resource in the Green Building – Nebraska Certified Home Association. This association has partnered with the Nebraska Energy Office to create a local Certification for Nebraska green building projects. Millard Lumber is proud to be a member of this organization.